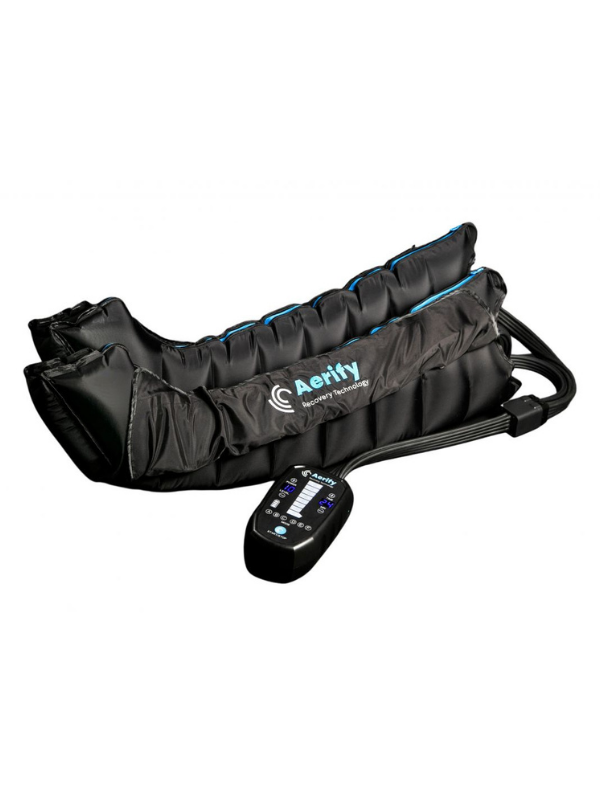  
Pressotherapy Aerify Charge
The Pressotherapy Aerify Charge is a last-generation pair of massage boots for muscle recovery: portable pressotherapy from Aerify. You no longer need an electrical inlet: take it with you everywhere to optimize your recovery right after you've finished training.
Made up of a row of air cushions that gradually fill with compressed air, creating a fluid compression wave along the legs, which eases your recovery.
Made in France

IPF-approved

99,6% customer satisfaction
Dimensions: 22 x 23.5 x 8.5 cm      
Specifications:
Size M up to 89 cm and L up to 90 cm
Number of programs: 6
Duration of each use: 90 min maximum
Battery autonomy: 3 hours
Power and voltage: 30 W, 220 v, 50/60 Hz
Application pressure: 30 - 240 mm Hg
Directions of use:
We recommend you to use Aerify Standard Pressotherapy for 30 to 50 minutes after your workout, with medium or high pressure. You can also use Aerify about 10 to 20 minutes before training, at medium pressure, to prepare your muscles for the upcoming exercise. Take the time to experiment with the different pressure levels to find the one that suits you best; using Aerify Boots should never be unpleasant.
Weight: 3.5 kg                                 Warranty: 2 years