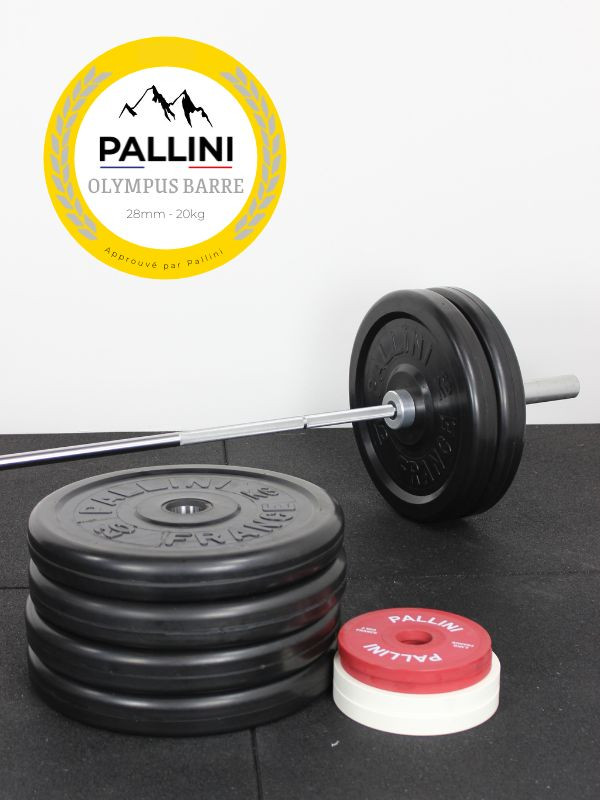  
Pallini OLYMPUS Barbell loaded with 165kg
The Pallini OLYMPUS barbell for weightlifting trainings and competitions, loaded to 165kg with Weightlifting Training Plates.
This set is composed by the barbell and 145kg in plates: 
   1 Pallini OLYMPUS barbell (20kg)
   + 4 x 20kg plates
   + 2 x 15kg plates
   + 2 x 10kg plates
   + 2 x 5kg plates
   + 2 x 2,5kg plates
Total price for elements if brought separately: € 2.697,56
Made in France

IPF-approved

99,6% customer satisfaction
Olympic 20kg training barbell made according to the I.W.F. regulations.
   · Total length: 2200mm
   · Length between sleeves: 1310mm
   · Hand grip diameter: 28mm 
   · Outer sleeve diameter: 50mm
   · Steel barbell on roller and needle bearings
   · Adapted knurling for several repetitions during training
Data sheet
Type de barre

Haltérophilie

Weight

20kg
You might also like